Vail Daily – October 1, 2021, by Scott Miller
Steve Hawkins used to have a gas-powered car for long trips. That ended several years ago. Now, Hawkins goes anywhere he wants in his Tesla. Hawkins, the general manager of the Vail Mountain Haus condos, is a longtime electric vehicle enthusiast. In 2012, he bought one of the first Tesla Model S sedans in Eagle County. He still owns it, and the car has about 220,000 miles on the odometer.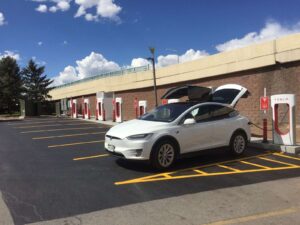 As more full-battery cars are sold, and more commercial and municipal fleets switch to electric power, there's a growing need for infrastructure.
Edwards Station, which sits on the southeast side of the Interstate 70 interchange in Edwards, recently took a deep dive into electric vehicle charging. Working with Tesla, Electrify America, Holy Cross Energy, and others, the station recently opened a set of eight Tesla Superchargers. Another four Electrify America chargers — which can work on any non-Tesla electric car — will open soon.
Paul Golden of East West Partners, which owns the station's property, said seeking out charging vendors was a fast education. Golden said East West co-founder Harry Frampton came to him earlier this year and asked him to start doing research on electric vehicle chargers. After evaluating several companies, Golden settled on Tesla and Electrify America. Deals were negotiated, along with cooperation from Holy Cross Energy and Eagle County, and work began in the summer.
Read more at VailDaily.com